Marine radar needs to be up and running, simple as that.
So if a radar magnetron needs replacing, you need the right part and you need it fast.
This is why AEP keep local stock of the full range of e2v marine radar products so a suitable replacement part for almost every imaginable radar model is never far away.
In addition to e2v radar components AEP stock a range of marine antennas and power conversion equipment for your convenience.
read more
News & Events
Marine Parts

- 18 Oct
The new Orion-Tr Smart DC-DC charger is designed for use in dual battery systems in vehicles or boats, where the alternator and the start battery are used to charge the service battery. The range is suitable for 12V or 24V systems, and both lead acid and lithium batteries. Unlimited..
read more
Marine Parts

- 29 Aug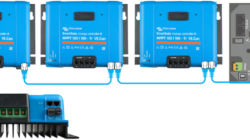 Adding to Victron's comprehensive range of Solar Charge Controllers, we can now announce new models with VE.Can connectivity. These currently include the SmartSolar MPPT 150/70 & 150/100 VE.Can with auto-select voltage for systems of 12, 24, 36 and 48 Volts. With the VE.Can..
read more
AEP Marine Parts

Products